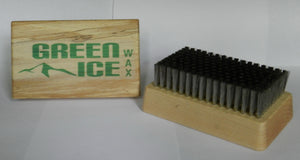 Waxing Stainless Steel Brush
Sale price Price $28.99 Regular price
Stainless steel brush is used as the first brush before waxing. Stainless steel brush removes oxidized base material and cleans the ski or snowboard while opening up the structure. Bristles are 0.005 Stainless Steel.
Dimensions: 4 1/4" X 2 1/2"
Bristles: 3/4"
Brush is made from hardwood in the USA.
**Free Shipping on orders over $50**